Trends come and go… and on their way, they entertain us. It brings us new trends each summer that we eagerly join with curiosity. From ALAWA, we are always seeking to be in the forefront, and always willing to share with our followers all the secrets and news hitting this summer 2019. Ready? Steady? ALAWA!
We have witnesses on how different pieces led the market in the past years: the trikini, neon swimsuit, or the Brazilian bottoms, among others. This year we are facing variety: laces and transparencies, retro style, floral prints and patterns, stripes, dots and froufrou, transparencies and uncovered shoulder. And what do they have in common? the asymmetry. Asymmetrical swimsuits will be the star of this new summer!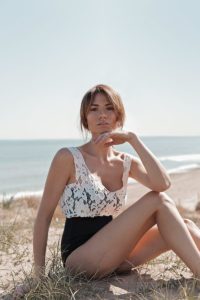 This common denominator has been an absolute success among the leading brands, and therefore most of the proposals for this season stand out for having a single strap or leaving an uncovered shoulder in order to create a unique piece, stylish and fun. Find ALAWA suggestions and choose the one you best like  www.alawa.es/shop !
Secondly, and not least, we have another of the main trends in 2019. A very unique piece as it can do several functions: swimsuit on the beach and t-shirt on the street. From nude tones to our classic and always favourite black colour, enjoy these outfits that give a chic and very original touch to the summer season. Don´t miss out your transparencies and find the best looks accompanied
by ALAWA. Find yours before they run out and choose the one piece, because they work in and out of the sea!
And finally, a very feminine and sensual style, the lingerie's bikinis. This type of bikini is one of those pieces that we can find within the emerging trends that swept this year and that we predict will continue to have the same success this summer. You can use them day and night!
The reason for it, is that lace has become top in the list of new leisure, as we can see in fashion shows, street style and the red carpet.
Designs that simulate underwear, swim wears with very peculiar designs that give a unique and distinguished appearance. From ALAWA we will like to say that it is important, as in the rest, to know what best suits you. Like any other fashion, in swimsuits and lace bikinis you have to know how to wear them and what to choose depending on your body type.
Classic swimsuits, the latest trends, lace, luxury, elegance, style and exclusivity. Find out everything in ALAWA, in our online store and live the best summer. Don't take a word for it, see for yourself. Ready? Steady? ALAWA!