We are very close to hot season and it's time to think about fashion and turning the summer mode on. 2019 is full of surprises in terms of styles. Ready, steady… ALAWA!
The monokini (one-piece bikinis), ranked last summer as one of the top garment, it's internationally famed and has gained the backing of many celebrities. It seems that this look is still in the absolute forefront, extending its days to this summer 2019 that is just around the corner.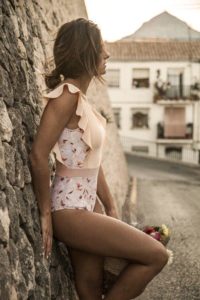 The reinsertion and reconversion of this legendary swimming costume used as a top/t-shirt is a fact and has been present in the fashion world for the past few months. The journalist Sara Carbonero and the actress Amaia Salamanca are one of the many celebrities following this trend.
However, trends aside, its original function remains intact, as it still takes over the beach front being one of the leaders of the swimwear market.
The monokini is not only a very comfortable garment, it is seemingly more casual than a bikini although in some occasions it can be sexier.
In ALAWA we provide you all one-piece swimwear options for this season. Enter our online store here and get to know all our proposals, as well as our new suggestion in Monokinis, a unique collection based on elegance and originality.
Retro style, striped, basic, black classics, ruffles… in ALAWA we have a wide range of possibilities. From styles inspired in the 80s fashion to the most romantic and daring models. Get to know all our options and rate the ones that best suits your body as well as your personality.
The magic of the one-piece swimwear is, among other qualities, in its multifunctionality. This garment is not only used for your pool parties or beach days with the family, the monokini can be your best ally wearing it with jeans or a skirt, simulating a shirt or jersey that enhance your figure and gives you a different and personal touch.
While it is true that swimsuits (as we have seen in previous ALAWA posts) originally had to cover a large part of the body and be discreet, there has been several changes with this concept and that is now over. Although the classics never go out of style, one-piece swimming suits were and have always been the key for swimming but they are still among the top in the fashion industry and they have always something new to offer.
In ALAWA, we show you the latest trends via our new swimwear collection. You will be the envy of everyone when wearing these exclusive monokinis, tankinis and some other swimsuits styles.
You can choose from a wide selection including different styles such as classic, solids, modern patterns, special reducing… beautiful styles that fit you, in a comfortable and durable way.
In ALAWA´s website you may find a wide range of sizes, including large sizes and bras for women with bigger busts, that will adapt to your figure.
Discover all the models in our online store!
Side knots and neck, bardot neckline, retro aesthetics, asymmetric and, of course, all kinds of ruffles. A wide range of options that suits all tastes and styles! Ready, steady… ALAWA!